Welcome to the official website for Crosby Municipal Utility District
About Crosby MUD
The Crosby Municipal Utility District of Harris County, Texas, a conservation and reclamation district under section 59, Article XVI, of the Texas Constitution has been providing quality drinking water and sewer services to our neighbors and customers since 1965.
The district is located in northeast Harris, County, Texas, approximately 25 miles from downtown Houston.  A map of the district can be found here.
ELECTION May 7, 2022
The Board of Directors of Crosby Municipal Utility District has called a maintenance tax election for May 7, 2022 at the District office located at 103 W Wahl St., Crosby, TX 77532 from 7 a.m. to 7 p.m. The purpose of the election is to obtain authorization for a maintenance tax of up to $0.25 per $100 of assessed value. Over 95% of the utility districts in Harris County have authorized maintenance taxes. These districts use the maintenance tax collections to supplement water and sewer revenues to reduce increases in water and sewer rates. Crosby MUD tax rate has decreased from $0.57 in 2013 to $0.47 today, and some of the decrease could have been replaced with a maintenance tax. If approved the Board of Directors of the District does not anticipate levying the full $0.25 at this time, but something in the range of $0.05 cents. The maintenance tax is needed because the District is currently operating at a deficit in its operating account. The District has not raised water and sewer rates in a number of years; however the rate charged by the San Jacinto River Authority for water increases annually. The maintenance tax will supplement payment for purchased water from the San Jacinto River Authority, as well as assist in payment for maintenance and repair for certain facilities within the District. The Crosby MUD Board, all of whom are residents in Crosby MUD who pay the water and sewer rates and the taxes that the residents do, are very mindful of managing the District's operations in a conservative manner. Early voting is at 103 W Wahl St., Crosby, TX 77532 from 7:00 a.m. to 4:00 p.m. on Monday through Friday, beginning April 25, 2022 through May 3, 2022, on each day which is not a Saturday, a Sunday, or an official State holiday.
For more information, please see the election information page on this website or call 281-328-4242.
We strongly encourage you to vote at the election.
Steven Schreiber, President
Eddie Foster, Vice President
Wesley Zarsky, Secretary
Donna Davenport, Treasurer
Diane Feland, Assistant Secretary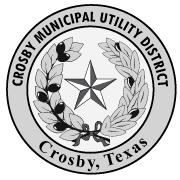 Contact Information for Crosby MUD
Office Hours are Monday to Thursday 7AM-4PM and Friday 7AM-12PM
Utility Manager – Chris Wallace
Office Manager – Beth McCormack
Physical Address
Crosby MUD
103 W Wahl St.
Crosby, Texas 77532
Mailing Address
Crosby MUD
P.O Box 249
Crosby, Texas 77532